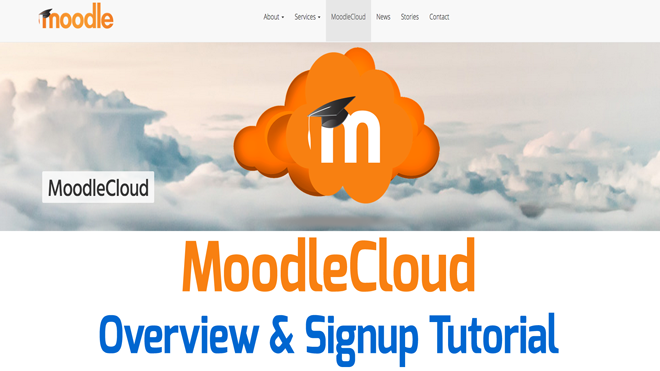 Moodle recently announced a new, free Learning Management System (LMS) that offers easy setup. It's a great introduction to their open source LMS software. Below is a video tutorial that gives an overview of what MoodleCloud is and why you should try it out.
Video Overview and Signup Tutorial
The Free MoodleCloud (aka Moodle Cloud) Overview:
Not everyone is tech savvy and wants and easy way to create an LMS
While many pieces of Moodle are easy, installing software on a server, managing it, upgrades and maintenance aren't for everyone
This is geared towards small schools, companies or entrepreneurs that have small courses with a small audience with no budget
They update the software for you to the latest version which allows all the safety security patches, features and flexibility available
It's responsive out of the box
It includes a free version of BigBlueButton their solution for full online conferencing, including video, audio, whiteboards and desktop sharing.
What Moodle Cloud Includes:
50 users maximum
200Mb disk space
But, you can host your large files with Dropbox, Google Drive, iCloud or others
You can host your videos with Youtube and it will automatically embed
Core themes and plugins only
One site per phone number
In MoodleCloud the free BigBlueButton sessions are limited to 6 people, with no recordings, but we hope you'll find this perfect for small classes and even study groups. You can add a conferencing session to your course just like any other class activity.
There are ads in the footer
Listen to my Podcast review of Moodle Cloud:
https://truefocusmedia.com/moodle-announces-free-moodle-cloud-service/
Moodle Cloud Tutorial Transcript:
Hi, my name's Jeff Long of the onlinecoursecoach.com website where we talk about how to best create your online courses. I want to talk about a new service from Moodle called Moodle Cloud, and in this video, I want to give you an overview of what it does and walk through signing up for your own Moodle Cloud account. Moodle Cloud is really good and it will really hit a specific target audience. The people that they're trying to target are those that aren't tech savvy, that don't want to install an LMS, a learning management system. They don't want to set up maybe a hosted Moodle installation or use a separate LMS or even build a WordPress website with a LMS plug-in.
Moodle Cloud is perfect because you don't have to manage a server or upgrades or maintenance. It's also geared towards small schools, companies, or entrepreneurs that have maybe small courses with a small audience and no budget. The best part of Moodle Cloud is that it's for free. Moodle Cloud updates the software for you to the latest version, which if you know anything about Moodle, that can be a positive or maybe a negative experience, but Moodle Cloud makes it easy because they do all the work for you.
Moodle is automatically responsive out of the box for you, and that means that your website or your LMS automatically adapts based on the device it's on. If it's on a computer or tablet or smart phone, it will adjust, and so your learning management system or your courses will automatically adapt. That's huge because mobile usage is exploding. I mean, I've seen this with our clients and their courses. A lot of people don't even have computers or laptops. They have a smart phone, they have a tablet or they're in the field or so whatever your audience is, chances are they want to be using their smart phone or a tablet, and this is perfect for that.
Now, there are some potential down sides to Moodle Cloud. You could only have 50 users maximum. You have 200 megabytes of disk space, so if you're thinking, uh, I want to put some files or PDFs or videos, a good workaround and Moodle Cloud allows for this, is that you can host your larger files with Dropbox or Google Drive or iCloud. You can even host your videos with YouTube, and it will automatically embed once you put that YouTube URL into your course.
Something else that might be a negative or a positive is it only allows core themes, and a theme in Moodle is the look, the layout, and the design general of the website, and it only allows core plug-ins. There are a certain amount of plug-ins that Moodle offers that you can install on your Moodle Cloud website.
Now, they do offer a way to do video conferencing, which is really cool, through a service called BigBlueButton. You can do video conference and you can do a lot of things with this, but it is limited to 6 people, and you can't record those sessions. It's perfect for a small class or a study group or even an impromptu thing where you want to teach a few of your students. Maybe they have a question, you can gather them around and have a short conference there.
Now, like I said, this is a free service, and they do put ads in the footer, so if you don't want ads, if that's a big deal to you, then Moodle Cloud might not be the best solution for you. With the explosion of learning management systems like Moodle and some WordPress plug-ins that allow LMS systems and other paid or free or premium learning management systems, Moodle Cloud looks like a great option. Let's sign up for Moodle Cloud right now.
Go to moodle.com/cloud where you can get a Moodle Cloud site now. The first thing you want to do is title your LMS. Make sure you're not a robot please, and then just simply fill in the appropriate information. Make sure to read their terms of service, and actually this terms of service is easy and somewhat enjoyable to read. It's not that hard, just a couple paragraphs, I read it on their website, so on here, there's a lot of scrolling, but on their website it's pretty short and sweet. In fact, it doesn't have any confusing terminologies. It's pretty easy to read, so feel free to read that at your convenience. Click continue to go forward.
Moodle Cloud is actually tied to your smart phone and this helps alleviates spam. It will send you a verification code, so simply go to your phone, see the verification code that you got in SMS from and type it in here below. I've gotten my code and I just type it in here. The next step is to pick a password and make sure that it's strong. I always pick a very strong password so that nobody can hack in. Let's click Save and there we go. That's it. We're all done. You can log into your website.
Here is what your new Moodle Cloud service looks like. It has a dashboard over here with your admin settings. It has your available courses, which you can actually take a course on Moodle Cloud, which is pretty cool. There are a lot of different things you customize with the sidebar and different things. As you'll notice, the ads are in the footer there, which enable this to make it free.
There you go, there's a quick introduction to Moodle Cloud. I encourage you to take this Introduction to Moodle course that's within your Moodle Cloud dashboard there. It'll walk through step by step on how to create a course, modify a course, and get your course up and running, so you can put students in so they can start learning.
There you go. That's an overview and introduction to Moodle Cloud. We'll have future videos coming out that will go through step by step on how to set up your Moodle Cloud courses, so keep coming back to onlinecoursecoach.com for more tips, tricks, podcasts, and tutorials on how to create better online courses.